West Uarije gives a digital workshop in English. In his specially developed "method of counting" traditional Namibian rhythms are taught: those of the Himba, Nama, the Ovambo and the San. Participation is explicitly encouraged. In the first part (which will be streamed on March 28th 2021) you can practice and clap along, the second part (on March 31st 2021) will deal with the foot technique and will set the whole body in motion.
Do you like what you see?
The hat is ready :)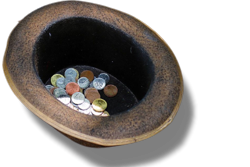 The artist is based in Namibia. Unfortunately PayPal payments to him do not work from everywhere (for example from Germany). If you would like to support him, we have provided help here in coordination with the recipient. Alternatively you can write to him via the contact button in his profile and ask for the bank details.