You have already learned on Sunday (29.03.21) in which rhythm which dance is clapped? Great! Then look forward to this part of the workshop, where your feet will also get something to do!
Unfortunately, something went wrong with the event planned for March 31st - therefore now to the new date on Sunday, 04.04.2021 at 19:00!
Do you like what you see?
The hat is ready :)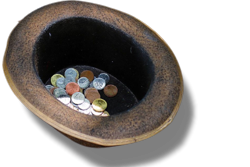 The artist is based in Namibia. Unfortunately PayPal payments to him do not work from everywhere (for example from Germany). If you would like to support him, we have provided help here in coordination with the recipient. Alternatively you can write to him via the contact button in his profile and ask for the bank details.